Kay L getting popular in the public eye!
November 4 2022
Last time we checked in with Kay L, he was seeing some media spotlights right on him! He was featured for an interview by I'm Here With Magazine, (which you can check out in full by clicking here: bit.ly/39yHpJn) and it seemed that life couldn't be sweeter for him.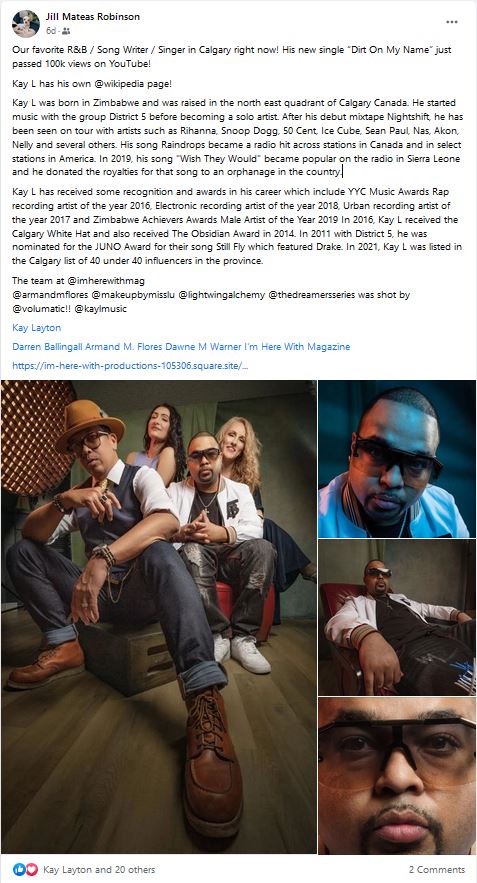 (Click on this image to open it in a new tab and give it a read!)
Well we're happy to report that this sweet life is continuing for Kay L, as is the attention he's been garnering from his followers and the media! He made an appearance at FIRE N ICE a few weeks back as a special guest as part of their Urban Saturdays program.
Also check out this slick photoshoot… almost like he's getting ready for some album promo or a music video, or some kind of performance? Just what could he be up to?
No matter what it turns out to be, we're very keen to see where Kay L's journey takes him next, and we'll be very keen to be along for the ride! Keen for some more music fam? So are we, very much so!
After being acclaimed as the #1 opening act in Canada, Juno nominated artist Kay L has shown absolutely no signs of slowing down. He's probably most known for his work with the group District 5, and his clever lyricism and intoxicating choruses. He has toured with the likes of: NAS, SNOOP DOGG, AKON, RIHANNA, FLO-RIDA, THE GAME, REDMAN & METHODMAN, ASHANTI, GINUWINE, SEAN KINGSTON, OBIE TRICE, MARIO, FABOLOUS, PITBULL, BOYZ II MEN, EVE, D12, JOE BUDDEN and many more! Kay L has also been able to extend his talents far beyond his stomping grounds to countries such as Jamaica, where he toured with "Drum n DJ", a group whom he has experienced much radio success with. He's established a sound that is nothing short of unique… So add him to your playlist and get ready to feel every high and low that his array of emotional tracks have in store for you! You won't regret the many different journeys ahead, as long as he's with ya.
So if you love Kay L just as much as us, and wanna keep your ear to the ground on any new releases from him, we have just the social media accounts and Spotify lists for you to turn to. Watch this space, because with how much he loves doing what he does, this definitely won't be the last we hear of him!
Kay L's Facebook page can be found HERE: www.facebook.com/thekayl
And his personal account can be found here! www.facebook.com/kaylmusic