Kay L is rocking the internet with interviews and high view counts!
June 20 2022
Kay L and Stephen Voyce are a duo that are becoming ever-more well-known as time marches on. Last time we covered them, we had a look at their new single Dirt On My Name, a deep-cutting slapper that tells it like it is, and shows fierce independence in the face of a rigged system. Since that story dropped, we're happy to announce that the official lyrics video has been going crazy, amassing several hundred thousand views in just a few short weeks! You can check that out down below.
Not only that, but Kay L is seeing some media spotlights right on him! He's been featured for an interview by I'm Here With Magazine, and it seems that life couldn't be sweeter for him.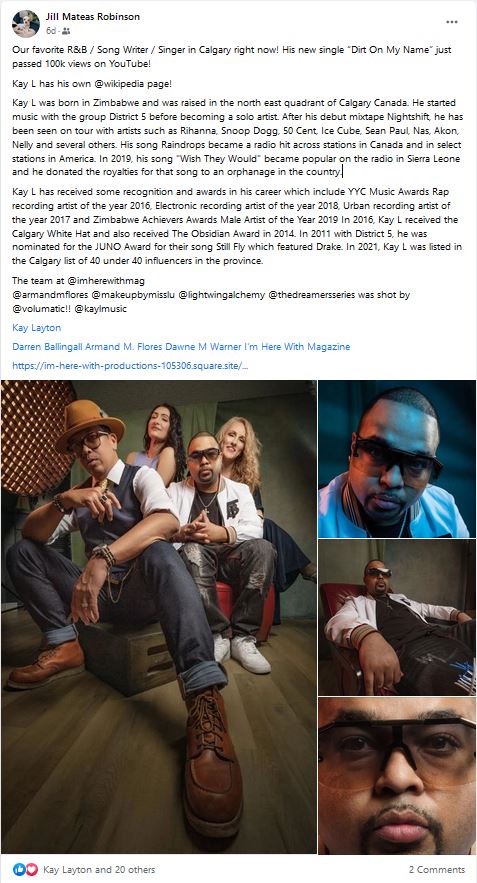 You can also check out the interview itself by clicking here: bit.ly/39yHpJn
Here's a sample of some of Kay L's wise words from the article!
"I'm never satisfied with where I am, I always feel like there's more we can do and more work to be done to achieve our goals. By the time we knock down a goal that we set out to achieve, we already have five new goals that we are working on, so it's a life-long journey.
I believe in trying to do something that gets me closer to my dreams daily, whether it's writing music, hosting an event, leading a protest or performing in an arena, I think it's important so stay focused and work towards your dreams and goals daily. Part of that is to 'enterprise while you socialize', which basically means to keep expanding and promoting your brand while partying, while out with your friends, while meeting other people, so you are constantly building.
The universe has given me a voice, and an opportunity to create change through the greatest art form in the world, which is music. I don't take any of it for granted."
These are the words and ambitions of a visionary with the drive to back his big dreams up. And as you can see from the quality of Dirt On My Name, Kay L is a living example of that.
But what's the scoop on Dirt On My Name? It's a track with a potent message. The higher you stand above the rest, the easier it is for jealous people to put a target on your back. That sentiment can apply to petty drama and haters, but it can also apply to systemic oppression. That's what this track is all about. If they think they can get away with it, people will drag your name through the mud if you have what they want. Dirt On My Name goes hard and spits based truths while keeping the instrumental and flow smooth. There's some anger in here, but also some genuine sadness over having to deal with prejudice, something that is sure to be relatable to anyone who has experienced the social issues that this song is commenting on.
And who is the artist behind this incredible release? After being acclaimed as the #1 opening act in Canada, Juno nominated artist Kay L has shown absolutely no signs of slowing down. He's probably most known for his work with the group District 5, and his clever lyricism and intoxicating choruses. He has toured with the likes of: NAS, SNOOP DOGG, AKON, RIHANNA, FLO-RIDA, THE GAME, REDMAN & METHODMAN, ASHANTI, GINUWINE, SEAN KINGSTON, OBIE TRICE, MARIO, FABOLOUS, PITBULL, BOYZ II MEN, EVE, D12, JOE BUDDEN and many more! Kay L has also been able to extend his talents far beyond his stomping grounds to countries such as Jamaica, where he toured with "Drum n DJ", a group whom he has experienced much radio success with. He's established a sound that is nothing short of unique… So add him to your playlist and get ready to feel every high and low that his array of emotional tracks have in store for you, just like the anger and passion behind Dirt On My Name! You won't regret the many different journeys ahead, as long as he's with ya. We reckon that this is one of many interviews that are still to come!
So if you love Kay L just as much as us, and wanna keep your ear to the ground on any new releases from him, we have just the social media accounts and Spotify lists for you to turn to. Watch this space, because with how much he loves doing what he does, this definitely won't be the last we hear of him!
Kay L's Facebook page can be found HERE: www.facebook.com/thekayl
And his personal account can be found here! www.facebook.com/kaylmusic
We'll see you next time Kay L brings out another brilliant release like this one.