Suga Boom Boom part 2 is underrated! Second verse just as dope as the first!
October 17 2022
Every fan of Down3r knows his endlessly catchy signature song Suga Boom Boom, but more people need to hear the good word that is Suga Boom Boom part 2! The original has stood the test of time, but part 2 is on the verge of going viral just like part 1… it's a sleeper hit that's waiting for its moment!
We believe the song speaks for itself! And so does the viewcount in the video down in the players below – it's not often that the auto-generated "topic" youtube channels get this kind of traction, but this track has over 8 million views on a topic channel. Down3r has done it again.
But youtube isn't the only place where this song is making waves. Check out this readout for the last few months on Songstats: Suga Boom Boom part 2 had a spike in activity around July 2022, and now in October as you can see, it's causing just as much of a buzz once again! Click on this image to see it in full size: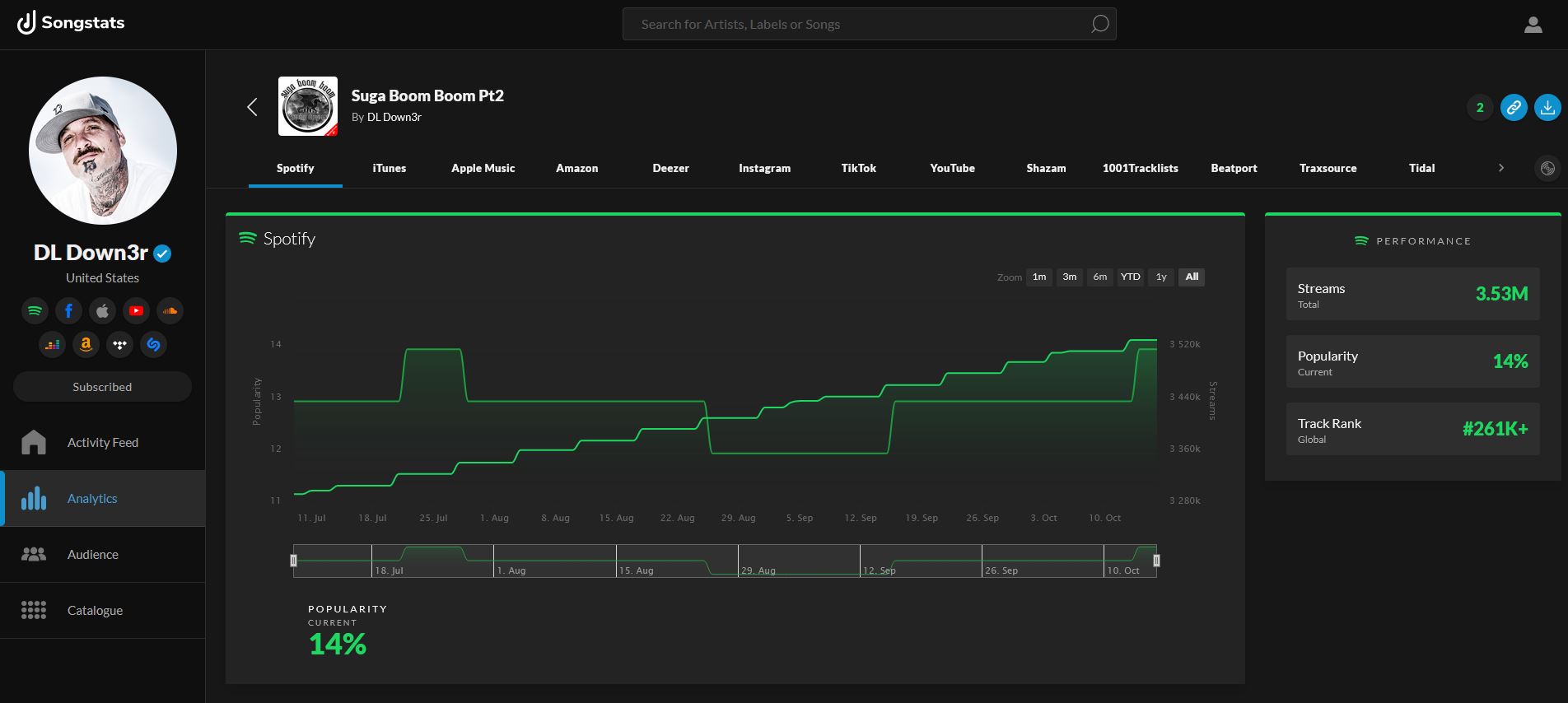 It's little wonder with the kind of bars we got on display here:
"Suga Boom Boom
This shit is hectic, can't you see pain in my eyes?
Suga Boom Boom
I can't explain the reason I chose to get high
Suga Boom Boom
I'Il chase that dragon but we had our final dance
Suga Boom Boom
I left her stranded cuz I'm done with this romance"
But to fans of the original, fear not: various versions of part 1 are doing even better! It's some serious clout to work with a talented act like DL Down3r, someone who's capable of making multiple versions of tracks like this that strike gold seemingly effortlessly. But of course that doesn't mean it isn't an absolute pleasure every step of the way, even if the sheer reach of that influence is intimidating to say the least. We truly have a viral hit on our hands, don't we?! Sensation after sensation, Down3r cranks out each wonder like they're nothing… but of course, don't be fooled. The man works hard, as do his other contributors. Can't get music of this quality without a lotta elbow grease.
And down below in the media players is an ENTIRE PLAYLIST full of the results of said elbow grease! All of Down3r's best hits, all in one place… and the first song in the list is sure to be a surprise to none, but a pleasure to all. Let's get Suga Boom Boom Part 2 just as respected as the original, fam!
Could Down3r ever get around to making a part 3? That'll be a dream to potentially watch out for. We personally hope so! In the meantime, we're happy to see that a lowkey banger like part 2 is finally getting its time in the sun… it's only uphill from here!
Check out DL Down3r at the following official links: